SAN-P for Use with Staked-Needle Prefilled Syringes
For use with staked-needle prefilled syringes, the SAN-P is the only disposable self-injection solution for prefilled syringes with staked needle that combines automatic needle insertion, passive sharps protection, and a hidden needle with manual control of injection speed.
The SAN-P is the best of both worlds. Like an autoinjector, it reduces patient anxiety and is easy to use. Additionally, the SAN-P allows the patient to control the speed of the injection, which has been shown to reduce the perception of pain.
This product is under development.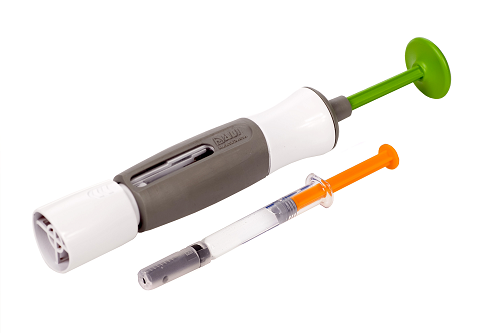 SAN-P Benefits
Compatible with staked-needle 1 mL long prefilled syringes
Automatically inserts needle with an audible click
Keeps the needle hidden to reduce anxiety
Allows patient to control injection speed
Automatic passive needle shielding
Visual indication to verify drug clarity and the integrity of the prefilled syringe
Can be customized to multiple prefilled syringe sizes and drug manufacturer requirements
IP Status
International patents pending