SAN-DV for Use with Drugs in Vials
For use in combination with drugs in vials, the SAN-DV was designed as a fully disposable automatic needle with an integrated vial adaptor for easy drug reconstitution or mixing. It delivers all the benefits of the SAN-L product family: It reduces the anxiety and the perceived pain of the self-injecting patient by allowing control of how the medication is administered.
The SAN-DV has the best of both worlds: like an autoinjector, SAN-DV reduces patient anxiety and is easy to use. Additionally, SAN-DV simplifies the reconstitution process and allows the patient to control the speed of the injection, which has been shown to reduce the perception of pain.
This product is under development.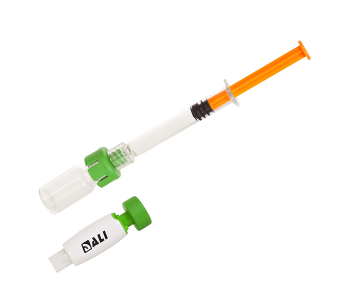 SAN-DV Benefits
Compatible with different vial sizes (13 mm and 20 mm neck) and with luer-lock prefilled syringes
Integrated vial adaptor and mixing system for easy reconstitution of lyophilized drugs
Automatically inserts needle with an audible click
Keeps the needle hidden to reduce anxiety
Allows patient to control injection speed
Can be customized to drug manufacturer requirements
IP Status
Granted patents: US 7,985,216 and EP 1,755,705
Additional international patents pending