Flexi-Q HV: Fully Disposable Auto-Injector for
Low to High Viscosity Drugs in Prefilled Syringes
The Flexi-Q HV is a fully disposable auto-injector for Low to High viscosity liquid drugs in prefilled syringes. This single-use auto-injector features passive needle shielding, allows better patient safety and encourages patient compliance in self-injection. It is the ultimate differentiating vehicle when considering the launch of a new drug or as a lifecycle management tool for an existing drug.
This product is under development and is owned by Elcam Medical. For sub-licensing and customization options,  contact Dr. Menachem Zucker from Elcam Medical.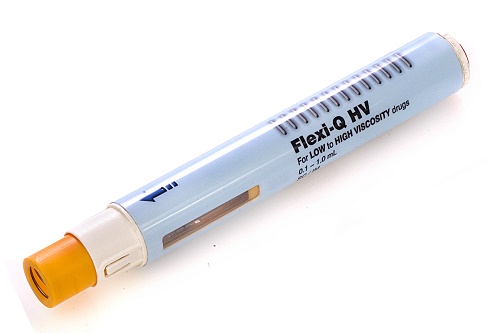 BENEFITS
Enables using a drug delivery device for drugs in pre-filled syringes
Flexible delivery volumes of 0.1 – 1.0 mL
Injection of 150 cP drug in less than 10 seconds (for 1 mL, depending
on needle gauge and drug characteristics).
Compatible with low to high drug viscosity
New proprietary damping mechanism – preventing impact on glass
syringe, allowing use of extremely strong injection spring
Reduced skin reactions – injection starts only after full needle penetration
Delivery of the entire dose – same dead space as with manual techniques
Easy and flexible customization options
DOWNLOAD FLEXI-Q HV BROCHURE